Do you Garden?
---
Moms View Message Board: General Discussion: Archive October 2006: Do you Garden?
<!-Post: 295933-!><!-Time: 1161695123-!>

<!-Text-!>Okay our school does "baskets" to raffle off during the school fair. My classes theme is "how does your garden grow?" We have mostly had money donations, so I am looking for some ideas!

Last year, we had a rock n roll basket, it had a guitar and then someother small things. We had a mad scientist one, that had a built lab (out of a box, then several science kits, and such. The family game night one has a card table, games and gift certificates.

Here is my direct question...i have to "house" all the stuff I buy. In the years past they use a wheelbarrow and toss everything in it. As a gardener, is there any other big item that you really wished you had, but don't? See i figure if you are a gardner you have a wheelbarrow.

What i currently have, or intend to buy for the basket is...a water can, a big wall thermometer, a couple of yard art butterflies, a hose, a nice pair of gloves, some bulbs, I'd like to find one of those nifty bulb planter tools.

Any other great ideas for me? Thanks!<!-/Text-!>

<!-/Post: 295933-!> <!-Post: 295938-!><!-Time: 1161696492-!>

<!-Text-!>Don't you just love those baskets. My DS has won one three years in a row at the mother/son dance at his school. You have a good theme and ideas. I have this really cool kneeler and you can flip it over and sit if needed. I use it all the time, saves the knees and you can use the sides to help get yourself up. The best thing is you can fold it flat for storage.<!-/Text-!>

<!-/Post: 295938-!> <!-Post: 295939-!><!-Time: 1161696614-!>

<!-Text-!>http://www.amberleaves.com/viewitem.cfm?DI=520078

What about this??<!-/Text-!>

<!-/Post: 295939-!> <!-Post: 295941-!><!-Time: 1161696988-!>

<!-Text-!>The kneeler is a great idea - as a former gardner with arthritic knees. I don't know about a watering can. I must say, in all the years I was gardening, I never used one. They're sort of cute, and kind of traditional, but a hose works so much better and is much easier to carry. Good gloves, yes. If you can find a bulb planter tool where the user can stand up, rather than kneeling, that is great. I have one, and it does save the knees.

I gardened for many years, and didn't have a wheelbarrow - and often wished I did.<!-/Text-!>

<!-/Post: 295941-!> <!-Post: 295942-!><!-Time: 1161697078-!>

<!-Text-!>WOW!!! That's even better. I have this wonder wheelie thing that we take on vacation and use at the beach that I have been using for around the yard. It fits the brown yard bag and has a couple pcokets but nothing like that. To have all your tools at your fingrtips and then not have to put them back in place everytime would be awesome. That would be a good choice. What is the value of each basket. Ours were only like about $30.00 to $50.00 each.<!-/Text-!>

<!-/Post: 295942-!> <!-Post: 295950-!><!-Time: 1161699419-!>

<!-Text-!>I garden a lot and don't have a wheelbarrow, but most of the time, I don't really need one, either, though!

Do they make little benches that you could sit on, and still garden? I still kneel, but getting up is an adventure sometimes! I get so stiff.<!-/Text-!>

<!-/Post: 295950-!> <!-Post: 295955-!><!-Time: 1161700327-!>

<!-Text-!>Dawn you need this. I have one and it makes getting up real easy!!! With Christmas coming you could put it on your list.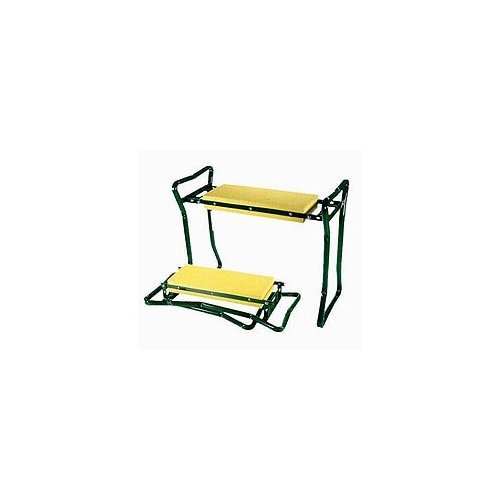 <!-/Text-!>
<!-/Post: 295955-!> <!-Post: 295956-!><!-Time: 1161700465-!>
<!-Text-!>OOOPS kind of big. You flip it the other way to kneel and this way to sit.<!-/Text-!>
<!-/Post: 295956-!> <!-Post: 295961-!><!-Time: 1161702714-!>
<!-Text-!>Our basekts value anywhere from 100-200 dollars. They have really encouraged us to have one large item and not just all small items.

ginny, i feel the same way about the watering can, someone donated it. It is nice and big, so it will fill space nice



I will look for a tall bulb planter. I think I will order the cart and see what I can fill it with. I only have 105 in donations so far and the cart will use most of that.<!-/Text-!>
<!-/Post: 295961-!> <!-Post: 295963-!><!-Time: 1161703376-!>
<!-Text-!>How about a hose caddy, or one of those things you hang on the wall in the garage that you can wrap the hose around?

I would get the watering can. I use mine to water the flowers that are in pots on the porch.

A little gardening shovel, bulb planter, weeder ( the thing that helps you pull weeds, not sure what its called).

Maybe some fertilizer, or food for the plants, like Miracle Gro.
Perhaps something that keeps the animals from eating the plants.
We have lots of Deer here, so I spray Deer Off! on the plants.

Have fun!<!-/Text-!>
<!-/Post: 295963-!> <!-Post: 295990-!><!-Time: 1161712444-!>
<!-Text-!>One of my favorite gardening items is something my son bought me because I was always killing plants by over or under watering them. He gave me a plant moisture tester that you stick into the dirt to determine how dry your plant is. I love it, and I bought one for my office plants. ;)<!-/Text-!>
<!-/Post: 295990-!> <!-Post: 295998-!><!-Time: 1161714550-!>
<!-Text-!>Yeah, that little bench would be nice. I finally bought a kneeling pad, because the cement on my porch is really rough and that's where I have to kneel to plant my alyssum. I was using pieces of cardboard, but this year, I got a pad. I really like it.<!-/Text-!>
<!-/Post: 295998-!> <!-Post: 296018-!><!-Time: 1161718470-!>
<!-Text-!>Instead of a basket put your items into a large terra cotta style planter. A small trellis for climbing plants would look nice standing in the pot. The planting bench kneeler is a great idea. I have one and love it. A container of Bayer or Miracle Grow continuous feed fertilizer granules is a great addition. A gift card for a local garden center would be so welcome when spring arrives. A good hand spade and garden gloves are always a good choice.<!-/Text-!>
<!-/Post: 296018-!> <!-Post: 296033-!><!-Time: 1161722002-!>
<!-Text-!>I was just going to say that a gift certificate to a local nursery would be great. (along with all the other stuff mentioned above). I would love to get a certificate to go and buy flowers in the spring. They can add up fast $$$<!-/Text-!>
<!-/Post: 296033-!> <!-Post: 296042-!><!-Time: 1161724090-!>
<!-Text-!>What about looking around for a consultant and getting a gift card for the gardener to have someone come out and give advice.

This is a guy, who's local to me, but has a national radio show

www.paulparent.com

maybe there is someone like that near you?<!-/Text-!>
<!-/Post: 296042-!> <!-End-!>
---