Gel fuel fireplace?
---
Moms View Message Board: General Discussion: Archive October 2006: Gel fuel fireplace?
<!-Post: 294325-!><!-Time: 1160584380-!>

<!-Text-!>We have a fireplace but it has never been used due to allergies and asthma in our family. I have candles in there but it's just not the same. I recently found online a gel fuel log set that can be used in an existing fireplace and am wondering if it would be worth it. I know it still won't be like a real fire, but it will be closer than candles. LOL! I grew up with a fireplace and we used it often. I love the ambiance of a fire, especially during winter months. Just curious if anyone has experience with a gel fuel fireplace.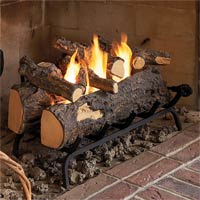 http://www.alsto.com/product.asp?product=8805700zz&dept%5Fid=7022<!-/Text-!>
<!-/Post: 294325-!> <!-Post: 294327-!><!-Time: 1160585341-!>
<!-Text-!>It looks interesting, but I am wondering how long the gel fuel lasts? And if you light one and have to leave suddenly for some reason, can you put it out? The fuel packs just seem a little expensive to me. I would look into those more before deciding. But I think it looks nice and is a nice alternative to a real fire!!<!-/Text-!>
<!-/Post: 294327-!> <!-Post: 294328-!><!-Time: 1160585708-!>
<!-Text-!>My husband had one when he was single. It's like a can of sterno. You light it when you want a fire. When you're done, you just put the lid on the can to put it out.

I will be better than candles, but not like a real fireplace. Does your house have natural gas? Another alternative would be to run a gas line and have a gas fireplace, if possible. A little more like the real thing.

Ame<!-/Text-!>
<!-/Post: 294328-!> <!-Post: 294331-!><!-Time: 1160587750-!>
<!-Text-!>This is interesting, but I have no experience with it. We have gas in our fireplace, which is really nice, but OOOOOOHHHHHHH so expensive. We rarely use it for that reason. We used it during Dec. and Jan., evenings only and weekends (when we both worked) for 2 years and our heat bill went through the roof! $200+ was added to our regular heating. We use it on Christmas now, Christmas eve, and maybe one or two other days now in the winter. It's just too expensive, but very convenient and nice. We don't have to clean anything out because nothing is really burning.

<!-/Text-!>
<!-/Post: 294331-!> <!-Post: 294332-!><!-Time: 1160589643-!>
<!-Text-!>I looked into a gas fireplace insert - BIG bucks! Our house doesn't have a gas line so that would cost even more. Simply too expensive. That's why I'm curious about this gel fuel option. It's probably the most economical option and the closest we're going to get to a real fire. LOL!<!-/Text-!>
<!-/Post: 294332-!> <!-End-!>
---