Stay cats
---
Moms View Message Board: General Discussion: Archive October 2006: Stay cats
<!-Post: 293597-!><!-Time: 1160060482-!>

<!-Text-!>I know it is a bad thing to feed a stray cat. There had been one hanging out between mine and the neighbors house. I found out the neighbor had been feeding it, so it made sense why it did not leave. They frequently go on vacation, and I felt bad the cat was not being fed. So I got some cat food from a friend. Then when I was at the store I bought some cheap cat food. Well as you can imagine, the cat thinks it lives here. My husband is allergic to cats, so that is not an option. Our local SPCA is over run with cats so I did not bring it there. We have a local cat rescue, but they are full up. She is a young cat, and very friendly. All the kids pet it, and she does not run away. I have not seen any lost cat signs in the neighborhood or in the newspaper. When I go out in the yard with Faith. I will sit on a plastic bench. The cat will come up and sit next to me. It loves for me to pet her. My husband thinks if I continue to feed it and get attached to it, the least I should do is get her fixed. Another friend recommened that she should get a rabies shot as well. I guess Im just confused. Can a stray cat like that survive outside in the winter? Right now the weather is nice. Every morning that cat is outside my front door meowing because its hungry. When we come home, and get out of the car, it comes running up to us...UGH... what did I start? ANybody ever go through this?
Keeping the cat indoors is not an option. Im just a sucker for soft furry creatures.<!-/Text-!>

<!-/Post: 293597-!> <!-Post: 293602-!><!-Time: 1160061741-!>

<!-Text-!>Could you keep her in your garage? We live in the country and have about 3 to 15 stray cats at any given time. I converted an old shed into their cat house. They can come and go during the day but at night I lock them up so they don't get eaten by coyotes or foxes or racoons.

And, no they can't survive outside without shelter. I would try to find a home for it or come up with some sort of shelter for it. And, if you are going to keep it, I would get it vaccinated and fixed.

If you lived closer to me, I would take it for you.<!-/Text-!>

<!-/Post: 293602-!> <!-Post: 293608-!><!-Time: 1160063763-!>

<!-Text-!>Unfortunately, there is no room in the garage. My husband has an old car in there and MUCH junk.LOL<!-/Text-!>

<!-/Post: 293608-!> <!-Post: 293609-!><!-Time: 1160065271-!>

<!-Text-!>Definitely, get it fixed, get its shots, and start flea/tick preventive treatment.

My mom would feed stray cats and, because she lived in Chicago, was concerned about winter. We made an A-frame shelter from the crate a smallish appliance came in, stapled insulation and plastic on the outside, stapled plastic over the entire back and much of the front, leaving space for the cats to get in, and she tossed a bunch of old rag rugs in there. She said every day she would look in and see anywhere from 2 to 6 cats cuddling up with each other in it.

Of course, you're in Virginia, so you don't have the kind of winters Chicago has, but definitely, some sort of shelter from wind and winter rain/snow.<!-/Text-!>

<!-/Post: 293609-!> <!-Post: 293610-!><!-Time: 1160065385-!>

<!-Text-!>I just went through this and posted about finding a stray. I asked around and tried putting ads up at all the vet offices and in the paper, but never found the owner. I suspect that the cat was dumped by its owner and found his way to my house. We made the decision to keep him (and hoped we could eventually bring him into the house with our 2 indoor cats) and I took him to my vet. I was prepared to spend the money for vaccines and neuturing, but unfortunately, the cat tested positive for Feline Leukemia.

I tried to find someone to take him and even went to the SPCA to see if they could help, but in the end, I had no choice but to put him down.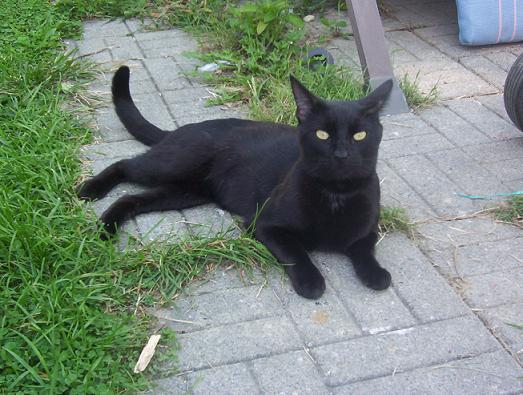 I would really try to find the cat a new home if you really can't keep her. Your vet's office might know of other rescue organizations and a search on Petfinder.com will bring up shelters in your area. If you do keep her (if you can find a small spot in the garage where she will be protected during severe weather), I agree you should get her to the vet for shots and spaying. I know around here there are low cost spay/neuter clinics, I'm sure there are some aorund you.<!-/Text-!>
<!-/Post: 293610-!> <!-Post: 293644-!><!-Time: 1160076334-!>
<!-Text-!>Sunny - I'm sorry about your kitty. What a handsome boy!! He looks like my "Dunkin" (as in "Dunkin Donuts"

). At least you tried, and you made his last few weeks happy.

Jackie - I agree with everyone else. Take her and get her innoculated and spayed. Then, build a small shelter for her outside, or advertise and see if you can find her an indoor home.

We had a seventeen year old torti cat that started wetting in the house. I saw an ad in the newspaper for a "cat house". LOL! The man was giving it away free. His son is an electrical engineer and adopted two strays. He couldn't have them indoors for the same reason (allergies), but he made this nice house and put in it a corner of his garage. It had wooden sides, top and bottom, but he made the front plexiglass with a kitty door in it so they could go in and out, and see out. The best part was, he put a hard plastic heating pad in there, and put baby blankets on top. Unfortunately, both cats were killed by coyotes. He actually SAW one of the attacks. Ugh!

He gave me the house for "Maggie" and it worked for a while, but shortly afterward, she died from kidney failure (just old age).

Many of my cats have been strays, and many showed up at this time of year, when they sense it getting cold out. My favourite kitty showed up where I worked around this time of year. I had him eight years. He was very special.

God bless you and your DH for your compassion. The world needs more people like you.<!-/Text-!>
<!-/Post: 293644-!> <!-Post: 293770-!><!-Time: 1160137134-!>
<!-Text-!>I'm with the spayed and innoculated crowd (leukemia shots especially) too. If you can't keep her indoors then she really needs an insulated shelter if you're going to keep her or until you find her a home. Cats really can't handle the cold well and get themselves in dangerous situations (sleeping under car hoods by the engine) to keep warm.

And congrats.

I think stray cats are often a special blessing.<!-/Text-!>
<!-/Post: 293770-!> <!-End-!>
---