Who has the best???
---
Moms View Message Board: General Discussion: Who has the best???
<!-Post: 360786-!><!-Time: 1227753011-!>

<!-Text-!>Monkey bread recipe! I'd post this on the recipe board, but I'm sure no one would see it. I've seen several on the web, but I want a tried and true one. Who's gonna hook me up? I'm making it for breakfast tomorrow morning. Yeah, nothing like short notice! lol TIA<!-/Text-!>

<!-/Post: 360786-!> <!-Post: 360788-!><!-Time: 1227754195-!>

<!-Text-!>We're also having monkey bread tomorrow morning. This is the recipe I use. I love the pudding addition. It's so gooey and yummy!

MONKEY BREAD

4 cans biscuits, quartered
1 c. sugar
1 tsp. cinnamon
3 tbsp. dry instant butterscotch pudding

SAUCE:

1 stick butter
1 tsp. cinnamon
1 c. sugar
2 tbsp. water

Mix sugar, cinnamon and pudding together. Roll biscuit pieces in mixture. Place pieces in well greased bundt pan. Bring sauce ingredients to a boil. Pour over biscuits and bake at 350 degrees for 35 to 40 minutes. Invert pan on plate immediately from oven. Best when warm.<!-/Text-!>

<!-/Post: 360788-!> <!-Post: 360789-!><!-Time: 1227756918-!>

<!-Text-!>Mmmm.... the butterscotch sounds yummy!

I do all the above, except for my sauce I only do brown sugar and butter.

Also try adding either raisins, chocolate chips, nuts etc... for a change if you'd like.<!-/Text-!>

<!-/Post: 360789-!> <!-Post: 360865-!><!-Time: 1227889359-!>

<!-Text-!>Too late posting, but we have the best one, lol.

24 Rhodes frozen rolls, thawed but still cold. (I usually just get them out of the freezer and microwave them for 30 seconds or so to thaw them)

1 container of flavored cream cheese. We always use the "cheesecake" flavored one, or the "cinnamon swirl" flavored one.

Sugar
cinnamon
allspice
whatever else smells good in the spice cupboard

Sauce:
1/2 stick butter
brown sugar


Once the rolls are soft, take one at a time and use your hands to stretch it out into a circle of sorts. Use a butter knife and scoop some cream cheese into the center. Fold the roll over the cream cheese and tuck in all the edges. It sounds complicated, but it's simple. Then drop into a bowl that has the sugar/spice mixture. Roll it around a couple of times then place into a well greased bundt pan. Repeat 11 more times. Melt butter in microwave, then add brown sugar to it until it's a nice gooey consistency. Pour half of that mixture over the rolls that are already in the bundt pan.
Make the remainder 12 rolls the same way, then pour the remaining butter/brown sugar mixture over the top.
Put in warm place and let rise until at least to the top of the pan. Bake 45 minutes on 350 degrees. If rolls brown quickly, cover with tin foil and continue baking.

Variation: Lately I've been cutting the rolls in half and stuffing each half with cream cheese. I still just use one container of cream cheese, but it makes it so that more bites have a yummy center.

Also, I sometimes make up some more of the butter/brown sugar glaze and stream it over the top of the monkey bread once it's baked and removed from the pan. We've also done a light glaze with powdered sugar, butter and water.

Now I must make these today, all this talking of them makes me want them!

Here's a picture. This is when I did them as whole rolls, rather than cutting them in half first: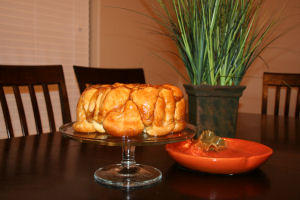 <!-/Text-!>
<!-/Post: 360865-!> <!-Post: 360893-!><!-Time: 1227932353-!>
<!-Text-!>OH MAN!!!!
I NEED MONKEY BREAD!!!!!<!-/Text-!>
<!-/Post: 360893-!> <!-Post: 360895-!><!-Time: 1227933325-!>
<!-Text-!>Tink, yours sounded good, but I didn't have any butterscotch pudding. I ended up making a recipe from a cousin of my mom's (from years back). They turned out very yummy! Something that the kids have already asked me to make again.



Breann, you recipe sounds awesome! Maybe a bit more involved than I'd usually have time for, but one of these days I'll have to try it.



Thanx!<!-/Text-!>
<!-/Post: 360895-!> <!-End-!>
---