Hey, Miss Trina! I have a booster seat question.....
---
Moms View Message Board: General Discussion: Archive June 2004: Hey, Miss Trina! I have a booster seat question.....
<!-Post: 140550-!><!-Time: 1087478462-!>

<!-Text-!>I just bought DD's booster. She finally topped the scale and grew enough to solicit the change. As much as I would like to stay w/ Britax, it just won't happen this time around.



I drive a Camry. I have always had DD in center seat. The center belt is a full shoulder belt rather than just a lap belt. No LATCH connections.

The booster we got seems to tip from side to side when I make a turn. She is in secure and the shoulder belt self locks. Do I need to start putting her in the right or left seat in order to stop the tipping? Those seats are more of a bucket style while the center seat is more "up-like" if you know what I mean. It is not a 5 pt harness carseat. It is a Graco Turbo Booster.

Thanks so much for your input. If I need to return and try again w/ another style, I am willing to do that.

Also, her other booster in my moms car. It is a 5 pt harness and currently set up as such using the LATCH system. When we start using the should belt instead, can we keep the LATCH system connected, or does that booster need to be free sitting at that point?<!-/Text-!>
<!-/Post: 140550-!> <!-Post: 140592-!><!-Time: 1087483796-!>
<!-Text-!>Hi Dana, how are you feeling these days? Hanging there, I hope.

Wow, A finally hit 40 lbs.?! B is still hovering at 38. She knows she will not ride in a booster until she reaches 40. Hopefully by fall or she may very well be the only 1st Grader in a 5 pt. harness.



To answer your questions... Yes, the center hump often causes problems, especially with boosters because they're not installed like a car seat. Try the Turbo booster in an outboard position and see how it works. Most likely, as you suspect, the tipping will stop because of the contour of the vehicle seat. The center position is the safest because it's farthest away from side impacts, but with #2 on the way you'll most likely need to move A outboard anyway.

Concerning your mom's car... LATCH may not be used with combination seats in the booster mode. Some manufacturers allow the top tether to be used in the booster mode but most do not. Be sure to read the instruction manual.

Car-Safety.org - LATCH and top tether info

Trina
Certified Child Passenger Safety Technician





<!-/Text-!>
<!-/Post: 140592-!> <!-Post: 140594-!><!-Time: 1087484001-!>
<!-Text-!>So the Graco Turbo Booster is a good choice for a booster? We are going to have to move DS to a booster in about a month or two since his sister will be here any day now. Is that the Booster you like the most or are there a couple to choose from.

I also have the Britax car seats but don't want to spend that kind of money on a booster.

<!-/Text-!>
<!-/Post: 140594-!> <!-Post: 140599-!><!-Time: 1087484818-!>
<!-Text-!>I got my oldest ds a Graco Turbo Booster last year and he loves it. I like it because it will also turn into a backless Booster when he gets a little older. He is so skinny that I think he will be 10-12 yrs. old before he reaches 80 lbs!!!<!-/Text-!>
<!-/Post: 140599-!> <!-Post: 140605-!><!-Time: 1087485693-!>
<!-Text-!>Andi, how old is Dylan and how much does he weigh? The Graco Turbo Booster is a dedicated belt positioning booster (BPB), which means there is no harness. Most kids are not big enough or mature enough to sit properly in a BPB until at least 4 yrs. and 40 lbs..<!-/Text-!>
<!-/Post: 140605-!> <!-Post: 140622-!><!-Time: 1087487326-!>
<!-Text-!>He is 31/2 and weighs about 35 pounds. Taylor (who is due on 7/8) will be in her infant seat for about 21/2 -3 months then I will put her in the Britax car seat and I would like to be able to move Dylan into a booster. I do have two Britax carseats so he can stay in it when I move Taylor but it looks like he will out grow it soon, that is why I was asking.<!-/Text-!>
<!-/Post: 140622-!> <!-Post: 140643-!><!-Time: 1087490438-!>
<!-Text-!>Thanks, Trina! You're the best!!!

<!-/Text-!>
<!-/Post: 140643-!> <!-Post: 140646-!><!-Time: 1087491512-!>
<!-Text-!>I have a question for you too Trina! My son is in a booster seat, the one without a back. It's such a pain in the butt! It sometimes isn't straight in place. I have it installed correctly, I believe. It has that strap with the buckle. It's the one that hooks onto the shoulder belt to keep it in place. It just doesn't seem as safe to me as a regular seat belt would. It just slides around the seat a lot. Is this normal?<!-/Text-!>
<!-/Post: 140646-!> <!-Post: 140677-!><!-Time: 1087500324-!>
<!-Text-!>Dana, you're welcome!



Andi, just checking. I couldn't remember exactly how old Dylan was.

There are many booster seats on the market now. The Graco Turbo Booster is nice. Others are the Evenflo Big Kid, Cosco Protek, Compass B500, .... and several more that I can't think of off the top of my head. Britax boosters aren't as expensive as their car seats. The Star Riser Comfy is about $99. (I'm sure I could find it cheaper!) You can order the Bodyguard from babyage.com for $103.89 + $3.95 S&H. We have both the Star Riser Comfy and the Bodyguard and love them. The Bodyguard is currently the only booster on the market with enhanced side impact protection. Both the Britax boosters have nice head wings that are great for kids who sleep in the car. I'd be happy to share resources and help in your search for a booster.

Mommierenee, what is the specific backless booster you're referring to? Some backless boosters come with a strap that adjusts the vehicle shoulder belt. Is that what you're talking about? What do you mean it "slides around a lot"? Have you tried the booster without it? I have backless boosters and have found it's not necessary to use the shoulder belt adjusters that came with them. The shoulder belt fits fine without them.

To find a CPS Tech or Car Seat Check event in your area:
SeatCheck.org

SafeKids.org

If interested, as a tech myself, I have access to a more extensive list.<!-/Text-!>
<!-/Post: 140677-!> <!-Post: 140690-!><!-Time: 1087501582-!>
<!-Text-!>Hi Trina,
Let me throw this one at you. Is this safe? I have my almost 6 year old dd (45 lbs.) in a booster, the kind with the back. It has a top tether which I have attached and I have it installed with the LATCH system in my van. I bought a LATCH belt that hooks through the back of the seat like a seatbelt would. She uses the belt with the shoulder harness without any belt positioner. I like the LATCH because it keeps the seat steady and it doesn't slide around. Is this safe or not?<!-/Text-!>
<!-/Post: 140690-!> <!-Post: 140696-!><!-Time: 1087502401-!>
<!-Text-!>My2girlygirls, a few questions... What specific car seat is this? Is it a combination seat that has a 5 pt. harness and converts to a booster? Is your DD using the 5 pt. harness? Just need to clarify a few things before I go any further.

<!-/Text-!>
<!-/Post: 140696-!> <!-Post: 140703-!><!-Time: 1087503083-!>
<!-Text-!>OK the booster is made by Graco, but I can't rememebr the model. I'll look tonight when hubby gets home. The seat itself is what skides around. I have 3 carseats in the car & his is on the passenger side, and my youngest in the middle & I am constantly having to take the seat with him in it, and push it up straight! The strap is ok, but it looks funny. I don't think I would necassarily need it, but I am scared to not use it, because the instructions said that I must use it if the seatbelt has a shoulder belt.
I will look for a CPS tech in my area & see. Thanks!<!-/Text-!>
<!-/Post: 140703-!> <!-Post: 140704-!><!-Time: 1087503089-!>
<!-Text-!>It is a Century. It is one that converts from the 5 point, she is not using the 5 point harness, just the seat belt.<!-/Text-!>
<!-/Post: 140704-!> <!-Post: 140719-!><!-Time: 1087504940-!>
<!-Text-!>Mommierenee, does it look like this? Here is a backless Turbo Booster (below). I have two just like this. Just checked the instruction manual at GracoBaby.com - Product Instructions. It says the shoulder belt must fit correctly but it does not specify that the shoulder belt adjuster *must* be used.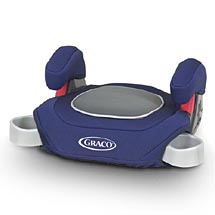 What is the make, model and year of your vehicle?? Yes, I recommend going to see a CPS Tech in your area.

My2girlygirls, to answer your question... No, LATCH may not be used with combination seats in the booster mode. Some manufacturers allow the top tether to be used in the booster mode but most do not. Be sure to read the instruction manual. In fact, you can find it at the Graco link posted above. (Graco bought out Century.) More info about LATCH and top tethers here:
Car-Safety.org - LATCH and top tether info<!-/Text-!>
<!-/Post: 140719-!> <!-End-!>
---