Trying to Sell my House
---
Moms View Message Board: General Discussion: Archive June 2004: Trying to Sell my House
<!-Post: 139486-!><!-Time: 1087209327-!>

<!-Text-!>My house has been on the market for 4 months now. I want to hurry up and sell it. I have three small children and it is soooooooo stressful trying to get up each day and clean the entire house before 10:00. ( I say 10:00am) because I usually get calls around 9:00am to come see the house between 10-11am. I clean before I go to bed sometimes, but sometimes I am so exhausted, I say forget it! I think we have a very nice and always clean house, so why isn't is selling? When you all look at houses what kind of things do you look at the most? My carpet is cleaned at least once a week and I just about re-painted every wall in the house. I have even rented a storage building to put some of our junk in just to show the space of our home. We are a family of 5 and have totally outgrown our house. I am frustrated with trying to find places to put new things that we get and I am tired of dealing with trying to sell it. My realtor gets feedback each time from the other realtors about what the people thought after viewing it and most people have said that they want something a bit bigger, or 9" ceilings, or a more open look plan (which is so funny) because our house is a SOOOOOOOOO open floor plan. We have a nice manicured yard. I know that after the 100th person that we have shown it too - it can't just be the size or floor plan. All of my family and friends say "I love your house and I can't believe that it hasn't sold yet, there is nothing wrong with it and actually comment on how clean it is and how fresh it always smells when they come through the door" We even lowered the price. Our house isn't overly priced because we have compared it to lots of homes similar to it. I get too stressed out over cleaning that I yell at my kids sometimes and I gripe at my husband about keeping things clean and then I feel so rotten for doing it. Any ideas on how to keep my house clean or maybe ideas on why my house might be selling. I know right now that there are tons of other homes on the market so it is very competitive.<!-/Text-!>

<!-/Post: 139486-!> <!-Post: 139487-!><!-Time: 1087209431-!>

<!-Text-!>Sorry, why my house Isn't selling?

<!-/Text-!>
<!-/Post: 139487-!> <!-Post: 139496-!><!-Time: 1087211153-!>
<!-Text-!>April,

I know in our area there are soooo many houses for sale that it is literally a buyer's market. Most people can be so picky because of so many houses on the market being sold and built, interest rates are still low and so many family are leaving the city (Baltimore and Washington) and moving 1-2 hours away.

I'm not sure if you are in the same situation (it sounds like you are) now (in our area) I wouldn't want to sell our house because of those conditions I don't think we could get the true value of our house.

Another problem with our area, is people tend to overextend themselves. Instead of buying something modest $80,000-$150,000 they will buy something for $200,000+



I hope everything works out, I'll be thinking about you.

Are you buying another house or building one?<!-/Text-!>
<!-/Post: 139496-!> <!-Post: 139504-!><!-Time: 1087212972-!>
<!-Text-!>We want to just buy a bigger house. I can't deal with the stress of building one. We just need the room. I love this house and just wish it was bigger. Sometimes I feel like removing it from the market but my realtor said "not now, because if I take it off the market and try to put it up next spring the interest rates will be back up." I know she is right about that. I guess we should leave it up for a few more months anyway.<!-/Text-!>
<!-/Post: 139504-!> <!-Post: 139515-!><!-Time: 1087214306-!>
<!-Text-!>Can you take all the kids out in the backyard when the people are over? Take half the stuff in the house and get it into a storage center. Anything not necessary for daily living.

Could be overpriced or too many houses to chose from. Some areas have a too many houses to pick from.

Did you try open houses on the week end?

What does the realtor say? He should be able to help you, else find another realtor.

http://houseandhome.msn.com/selling/sellingoverview.aspx
<!-/Text-!>
<!-/Post: 139515-!> <!-Post: 139516-!><!-Time: 1087214481-!>
<!-Text-!>I did take a lot of stuff to storage and I might need to take 1/2 of the toys there

maybe that would help. We usually just leave the house all together during a showing. My husband tells me to clean the house and keep the girls outside all day, well I can't do that, it is hot here. I mean some days but not all day all of the time. Thanks.<!-/Text-!>
<!-/Post: 139516-!> <!-Post: 139517-!><!-Time: 1087214682-!>
<!-Text-!>Oops, for some reason I didnt' see your questions.

I think it is too many houses to choose from. Not over priced. We have had lots of realtors tell us our house is priced just right- had not complaints about it being over priced yet and we already came down some.
We had had 2 open house sessions so far, maybe we could try another one, couldn't hurt. Thanks for idea.

My realtor tells me that houses are taking longer to sell, around 6 months. That is why I haven't just given up yet.<!-/Text-!>
<!-/Post: 139517-!> <!-Post: 139534-!><!-Time: 1087218622-!>
<!-Text-!>So sorry you are struggling to sell your house. I loved our house in Texas and it took 7 months to sell. It was just the fact that there were so many houses on the market. We have sold 3 houses and I know how frustrating and tiring it can be, especially with small children.

It sounds like you have done everything right, cleaned the carpets, touched up paint. One thing that is important is the front door and surrounding area since this is the first thing that people see. Make sure that area looks great. Also, it sounds like people's major comment is that they want something a little bigger. I know you removed clutter. Is there anything else you can remove?? Maybe a few pieces of small furniture to make the rooms look bigger.

Good luck. I hope it sells soon. I would keep it on the market a few more months. Spring and Summer are the best times to sell your house. Hang in there.<!-/Text-!>
<!-/Post: 139534-!> <!-Post: 139569-!><!-Time: 1087222133-!>
<!-Text-!>Do you have pictures somewhere? I have sold 3 houses in 6 years and bought 4. I am now an expert on real estate so it seems

<!-/Text-!>
<!-/Post: 139569-!> <!-Post: 139570-!><!-Time: 1087222456-!>
<!-Text-!>We are in a very similar situation. Three kids with the house on the market. I can identify with your stress!!

Our realtor put in our listing that the other agents see to give us 24 hour notice before showing the house because of the kids. He did warn us that not all would follow that, but most would. Granted it sounds like you are getting a lot more traffic on your house than we are, but you could still ask your realtor about that.

I was just given another tip that I haven't tried yet, but certainly couldn't hurt. Get a small statue of St. Joseph and bury it upside down in your front yard. Some people swear their homes sold within days of doing this after it was on the market for a while. I say it's worth a try.



Good luck. The right buyer is out there. Hang in there.<!-/Text-!>
<!-/Post: 139570-!> <!-Post: 139576-!><!-Time: 1087223176-!>
<!-Text-!>If the only feedback you're getting is that the house is too small, then stop stressing. There's nothing you can do about the size of the house - and no matter how pristine it is, a person looking for a bigger house is not going to buy it.

Tell your realtor - and make sure he notes it on your listing - to be very specific about the size of the house first. This way you'll only get the traffic of people who are looking for X number of square feet.
Anyone who comes looking for a bigger house is wasting everyone's time.
Maybe yor realtor needs to market it as a "starter" home or a home for "empty nesters".

It's tough, but you can't live your life in a museum. The right buyer will come along and say, this is the house - even if there happens to be a toy on the floor - or a dish in the drainboard.

The house we bought was on the market for over a year - just waiting for us. Your buyer is out there too. Don't get discouraged.
Ame<!-/Text-!>
<!-/Post: 139576-!> <!-Post: 139579-!><!-Time: 1087223746-!>
<!-Text-!>Here are two pictures of the outside of my house. I will post some of the inside in a few minutes too.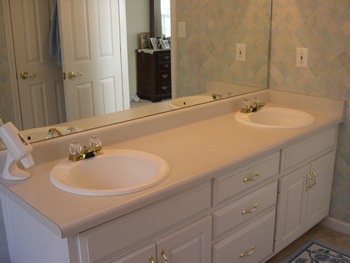 <!-/Text-!>
<!-/Post: 139579-!> <!-Post: 139580-!><!-Time: 1087223916-!>
<!-Text-!>Here are two pictures of the outside of my house. I will post some of the inside in a few minutes too.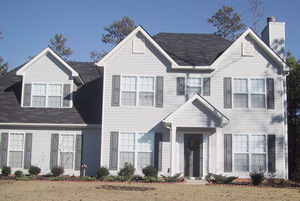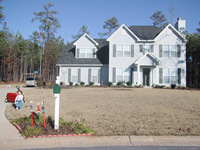 <!-/Text-!>
<!-/Post: 139580-!> <!-Post: 139582-!><!-Time: 1087224335-!>
<!-Text-!>Bake some cookies, have the dough all ready, bake them when you know you have a showing. My friend did up some cinnamon buns, and had them sitting on a platter in the kitchen. Her house sold right away. It is stressful on the woman of the house, as basically it is us, who runs the house.If you can get others to help without having to nag it is a bonus. I have been thinking of selling our house as well, but just thinking of all the work that needs to be done ahhhhhhhhhhh. Hope your house sells soon. Oh do you watch that show on tv with the guy who comes in and does a bunch of stuff to your house to get it ready for selling? One thing on thier he does is take down family photo's especially if you have a ton of them, put up basic pictures, take down all the kids pictures in their room etc... I am the type of person that I don't care if thier is the lived in look, as that is the way we live. The only type of house I would not consider is if it did not have room for the dining table and hutch. Things will fall into place, just like the comments above, but try the cinnamon buns or cookies and see what happens.<!-/Text-!>
<!-/Post: 139582-!> <!-Post: 139583-!><!-Time: 1087224555-!>
<!-Text-!>Your house does not look small! How many square feet is it?
Ame

Have you asked the realtor his/her honest opinion as to why the house isn't moving? Is the whole area slow?

It really looks like a lovely home.<!-/Text-!>
<!-/Post: 139583-!> <!-Post: 139584-!><!-Time: 1087224571-!>
<!-Text-!>Thanks for the suggestions. I am worried the morning I decide to bake something that I would burn it and then the house would stink. I already took our photos down except the 3 on our mantel.<!-/Text-!>
<!-/Post: 139584-!> <!-Post: 139586-!><!-Time: 1087224787-!>
<!-Text-!>These are of my dining room: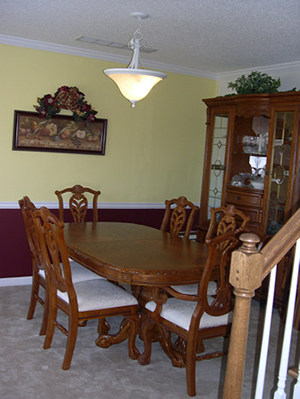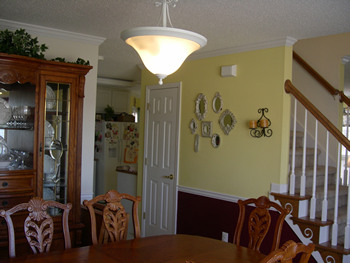 <!-/Text-!>
<!-/Post: 139586-!> <!-Post: 139587-!><!-Time: 1087224945-!>
<!-Text-!>These are of my kitcen: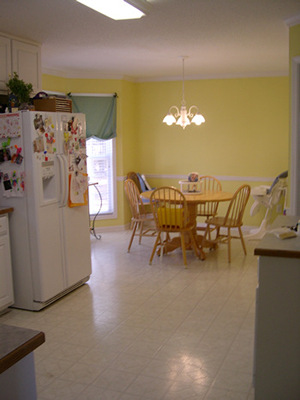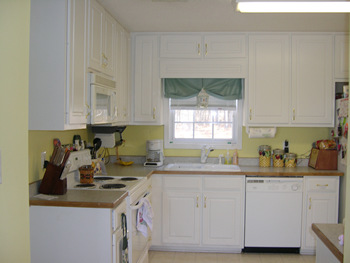 <!-/Text-!>
<!-/Post: 139587-!> <!-Post: 139588-!><!-Time: 1087224995-!>
<!-Text-!>Oops: Kitchen<!-/Text-!>
<!-/Post: 139588-!> <!-Post: 139589-!><!-Time: 1087225169-!>
<!-Text-!>

<!-/Text-!>
<!-/Post: 139589-!> <!-Post: 139594-!><!-Time: 1087226407-!>
<!-Text-!>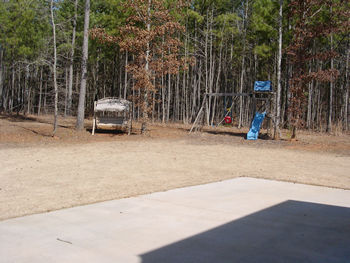 <!-/Text-!>
<!-/Post: 139594-!> <!-Post: 139602-!><!-Time: 1087226899-!>
<!-Text-!>Wow, nice house!

How about some flower pots on the front porch? Add a bit of color to the drive-up.<!-/Text-!>
<!-/Post: 139602-!> <!-Post: 139605-!><!-Time: 1087227357-!>
<!-Text-!>I have my real estate license, here are some tips that have worked for me. btw...Lovely home. What is the average time to sell in your neighborhood? If you are within that average, I wouldn't panic. (yep, I do know how stressful it is to keep things up).
Since it "needs to look bigger".. take the canisters, bread box and what ever else you can off the kitchen counter. Change your lightbulbs to where it looks brighter. Empty the closets of as much as you can to make them look bigger.
Plants some flowers in pots by the front door. Make sure there are no toys in the yard or on the floor. Check your bathroom make sure the tubs have nothing on the sides, nothing on the counters.
Again, if your house hasn't been listed for longer than the average, it just might be a waiting game. Also, if there is a large inventory for buyers to pick from, they can be very choosey.<!-/Text-!>
<!-/Post: 139605-!> <!-Post: 139621-!><!-Time: 1087228656-!>
<!-Text-!>My goodness, that's NOT a small house!!! What is the square footage?? Is it smaller inside than it looks?? Maybe people (like me) see it and think it's huge and once inside they find out it's not. It's beautiful!<!-/Text-!>
<!-/Post: 139621-!> <!-Post: 139638-!><!-Time: 1087231147-!>
<!-Text-!>TExannies suggestions are great. I would also add, take all the magnets off your frdige, that really cleans up your kitchen! What is the deal with no grass? is that standard, or are these early photos? Maybe it is more a grass hasn't come back thing! Also really look at the front door, is it clean, brass shiney, need painting. People spend an average of 5 minutes at the door waiting to be let in by the realtor. When you get called for a show burn a candle (vanilla, baked apple pie) and then blow it out before you leave. Leaving is ALWAYS best, even if you are attempted not to stay. Your house is beautiful. Unfortantly sometimes you get caught in a price issue, whether your house is worth it or not. We just recnetly had to sell our house for much less because our neighborhood was selling for that, but our house was one of the biggest and if people were going to spend over 200 then they moved up a neighborhood. (((HUGS))) I know this is really stressful. Also one last thing, how many shows have you had. I heard that 12 shows and you should have an offer or you are priced too high. We had 67 before our last one sold, but we needed some painting etc. UGH...67 shows in 7 weeks, 3 small kids, I feel your pain!<!-/Text-!>
<!-/Post: 139638-!> <!-Post: 139662-!><!-Time: 1087233872-!>
<!-Text-!>Actually, I was thinking your house looked like my cousin's house in Cumming, GA and I noticed you were from GA too! In my cousin's house the bedrooms are T-I-N-Y! Only room for a twin bed and a dresser in the kids' rooms. I don't know why the builders are doing that. No room to grow!<!-/Text-!>
<!-/Post: 139662-!> <!-Post: 139668-!><!-Time: 1087235120-!>
<!-Text-!>That seems to be a trend in this area. Luckily, most are building a playroom for the toys when the children are younger but what to do when they get older and want to hole up in their rooms away from everyone else? I think this can be a big drawback when I am looking at houses. We already know that when we buy a house, it may not be the only home we will own but we will live in it for quite a while and need it to grow with us. Not real sure what else you can do to change that if it is the case. I would also be concerned about the lawn although that would be quite a project just to move. I guess it would depend on just how desperate you are to sell. How many feet is your home?<!-/Text-!>
<!-/Post: 139668-!> <!-Post: 139676-!><!-Time: 1087235687-!>
<!-Text-!>Kaye read my mind, GORGEOUS house, but why no grass? Nate and I were talking on Saturday about the requirements of a home we would buy, and one of his was SOFT grass. We have a lot of the crunchy grass around here, but he wants a manicured lawn with soft grass. LOL!! That can be a biggie for guys I guess!<!-/Text-!>
<!-/Post: 139676-!> <!-Post: 139697-!><!-Time: 1087237614-!>
<!-Text-!>We have grass. This picture was taken in the fall when it turns brown. We have Bernuda Sod. There is green grass in my yard right now

HEE, HEE, HEE.

I think I will remove all of my stuff from the outside of fridge that my help. Good Idea.

I also have flowers on my front step and back patio, these pictures were taken several months back, I didn't take this morning.

Our house is about 2000 square feet on a 1.3 acre lot.<!-/Text-!>
<!-/Post: 139697-!> <!-Post: 139702-!><!-Time: 1087238072-!>
<!-Text-!>Also, the brochures that we have printed tells the exact information on our home and so there is nothing misleading about the size at all. I mean it doesn't say we have 9' foot ceilings in here and when someone comes in and says "oh, we love your home but we need 9' ceilings" Well duh, they should have known that before looking at the house. We have 4 bedrooms and they are all large except our baby's room. It is about 11X11. We want a house with a basement for storing things so that is why we want to move. I have had people look at my house and then say we are looking at homes with basements, well if that is true then why did you waste my time?<!-/Text-!>
<!-/Post: 139702-!> <!-Post: 139707-!><!-Time: 1087238485-!>
<!-Text-!>LOL. I meant to add about the magnets too and got distracted by my kids!

how does you house compare in size with the other houses on the market? is yours a "starter" neighborhood and your house is priced more for a 2nd house buyer. (for example..we live in a one story 4 bedroom home. our neighborhood is more of a 2nd or final home neighborhood. One story homes here tend to sell slower than two story even if they are both 4 bedrooms because families tend to want as the "final" house (ie" house for older/teen kids) a 2 story house. Also, it is a slightly higher priced neighborhood so young families just starting out can't afford it...quite a catch 22 if I was trying to sell!<!-/Text-!>
<!-/Post: 139707-!> <!-Post: 139711-!><!-Time: 1087238710-!>
<!-Text-!>You also have to consider that people feel like they need to come up with a concrete reason .
when they don't buy your house. It honestly could be as simple as it just wasn't the right one for them. When we were looking, we saw tons of house that were fantastic, but "just weren't right"..no great reason.

Crystal, alot of your crunchy grass up there is due to dry soil. Water the heck out of it and it will be nice and soft.<!-/Text-!>
<!-/Post: 139711-!> <!-Post: 139715-!><!-Time: 1087239039-!>
<!-Text-!>Our neighborhood is more for 2nd homes or settle down homes. They are not considered first time homes. This is our second house. We have a lot of established families that live here and some retired people. We have about 3 streets, maybe about 80-100 homes if even that many. It is a smaller neighborhood compared to some of the ones around. It is a nice neighborhood. Our house seems to be priced the same or lower than other homes that are comparable to it. One other home exactly the same in my neighborhood (different color) is priced about $5,000.00 more than ours. It just went on the market. The other homes in here are brick. Ours isn't. I know when we started out we couldn't have afforded to live here and so I wouldn't consider it a first time buying neighborhood at all. We have had good comments from other agents showing our home about how bright & neat our house looks and we have had them tell us the price is right.

Thanks for your suggestions.<!-/Text-!>
<!-/Post: 139715-!> <!-Post: 139730-!><!-Time: 1087241480-!>
<!-Text-!>It could very well be that the lookers are like you, they need a bigger house too.
I know how frustrating it is.
Talk to your agent about what h/she is doing to market your home besides putting it in MLS.<!-/Text-!>
<!-/Post: 139730-!> <!-Post: 139937-!><!-Time: 1087298027-!>
<!-Text-!>Okay, I got major house envy. Gorgeous house. Bigger? How could it be bigger? Look at that eat in kitchen. I love it....

That house would sell for over 4 million in my neighborhood! Look at the huge lot.

Needs grass though. Can you spray the grass seeds on? Got to water though.

I think you need some stepping stones to the front door.(Home depot) But I may be wrong with that.<!-/Text-!>
<!-/Post: 139937-!> <!-Post: 139942-!><!-Time: 1087298527-!>
<!-Text-!>Hee, Hee, Hee, I know it is big but come on now, 1.5 million, well then I will have it removed from my property and have it placed in your neighborhood



We just need more room. I don't have a lot of closet space for the junk that I have. I would love to buy a house with a basement. We should have bought a house with a basement in the first place!<!-/Text-!>
<!-/Post: 139942-!> <!-Post: 139945-!><!-Time: 1087298785-!>
<!-Text-!>Total optical allusion...

You are right. 2000 square feet isn't that big.

We have 1,500 square feet in an 80 year old house.(Too small) No den - no playroom - no family room - tiny bedrooms - no finished basement. Tiny closets. The lot is huge for around here. Most houses are one 50 by 100 or big is 100 by 100. Of course there are a few (very few with bigger lots.)

But because of your lot size the house would be worth quite a bit. Definitely over a million or more due to lot size...<!-/Text-!>
<!-/Post: 139945-!> <!-Post: 139946-!><!-Time: 1087298948-!>
<!-Text-!>Yeah, I love my house and I wouldn't move if we had one extra bedroom & basement or at least a couple of more closets. It would probably be the perfect house for a family that only has one child or two children. We have three and it just isn't working for us.<!-/Text-!>
<!-/Post: 139946-!> <!-Post: 140000-!><!-Time: 1087309060-!>
<!-Text-!>Is it worth the extra increase in value to consider adding on?<!-/Text-!>
<!-/Post: 140000-!> <!-Post: 140031-!><!-Time: 1087311846-!>
<!-Text-!>I'm surprised by your need for a basement. Is this an East Coast thing? Basements are nearly unheard of here. A bedroom per child and the space you have looks great to me. Of course I have 3 kids and 1200 square feet so I would really stretch out in your place. I don't have any idea why your place isn't selling. It looks like a beautiful home, well kept up, nice big lot, plenty of space. Keep trying, your buyer is out there.<!-/Text-!>
<!-/Post: 140031-!> <!-Post: 140036-!><!-Time: 1087312335-!>
<!-Text-!>Thanks. We talked about adding on, but because we want to be in a home where we would like to settle down for a very long time as the girls grow we think moving is best.<!-/Text-!>
<!-/Post: 140036-!> <!-Post: 140520-!><!-Time: 1087469921-!>
<!-Text-!>Well I just wanted to say that I had a showing yesterday evening so I hope that I get some good news. I also wanted to say that I took Annie's and Kaye's advice about taking the breadbox (a few other items) and all of the magnets off of my counters, fridge and tub, and it makes a BIG difference. I was totally amazed at my kitchen after I removed all of the magnets and pictures from my fridge. My kitchen looked bigger and two times cleaner. My husband came home and was just staring. He couldn't figure out what was different and boom it hit him. He was amazed at how the junk on the fridge made my kitchen look so messy. I mean, look at the picture above of my fridge and all of the junk that was on it. Thanks for the advice, I think my house shows much better now

<!-/Text-!>
<!-/Post: 140520-!> <!-Post: 140623-!><!-Time: 1087487634-!>
<!-Text-!>You're welcome. You can send my commission check when the house sells! LOL ;)
Hope it works!!!<!-/Text-!>
<!-/Post: 140623-!> <!-End-!>
---