A mystery is solved!
---
Moms View Message Board: General Discussion: Archive June 2004: A mystery is solved!
<!-Post: 138477-!><!-Time: 1086908486-!>

<!-Text-!>Last year I posted this pic asking if anyone knew what this plant is. It grows naturally in my yard and has the most wonderful, sweet fragrance. I LOVE smelling it while outside! Today, while on a nature hike with DS's class, I noticed it growing in the butterfly garden. The guide told me it's called "Sweet Fern".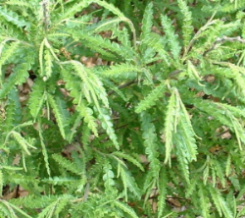 Sweet Fern Info<!-/Text-!>
<!-/Post: 138477-!> <!-Post: 138479-!><!-Time: 1086908667-!>
<!-Text-!>Its a very pretty plant.<!-/Text-!>
<!-/Post: 138479-!> <!-Post: 138481-!><!-Time: 1086909125-!>
<!-Text-!>What a neat plant to be growing in your own yard.<!-/Text-!>
<!-/Post: 138481-!> <!-End-!>
---