Weddings - What are they like in your neck of the woods?
---
Moms View Message Board: General Discussion: Archive June 2004: Weddings - What are they like in your neck of the woods?
<!-Post: 137229-!><!-Time: 1086620089-!>

<!-Text-!>We've had a lot of posts about weddings lately on MV and I'm curious what a typical wedding is like where you live. In NY - at least in the Boroughs, Long Island, and Westchester, weddings are usually a huge deal. (See post - My Husband did something really nice ... - to see what I'm talking about.
Cocktail hour, 5 hour event, band or DJ w/dancers and singers ... huge, lavish events that probably cost more than the downpayment on a house. There were 270+ guests at the wedding I went to yesterday, and the wedding had to be $175.00 per person - not counting DJ, flowers, limos, etc.
I was under the impression that this is not the norm in other parts of the country, but I may be wrong.
What's a usual reception like in your neck of the woods?
What's your "take" on these huge events?
Ame<!-/Text-!>

<!-/Post: 137229-!> <!-Post: 137238-!><!-Time: 1086620901-!>

<!-Text-!>Well, we don't even have a limo service in our area, so that is completely out of the picture!
Receptions here are usually done in the church hall, or at the one and only reception center. The reception center isn't really that big, so more often than not, the reception ends up at one of the churches.
Receptions are always well decorated with very nice touches. Always a large beautiful backdrop that the wedding party stands in front of. Refreshments are served by friends of the family. Usually just cake or cookies, some mints and a fun drink.
No DJ's here. Just music playing. Some have lots of fresh flowers, some don't.
We had just over 300 people sign our reception guest book at our wedding 6 years ago. So, it wasn't a "small" event.
I say if you can get the limo etc.....go for it! If we had a service here, we definitely would have gotten one. I don't think we would have gotten a DJ. It isn't "common" to do that here at receptions. Plus, we didn't have a dance at our reception anyway. Music was fine for us.
My take on weddings is *whatever floats your boat!* It's your very own day, and do whatever makes you happy.<!-/Text-!>

<!-/Post: 137238-!> <!-Post: 137243-!><!-Time: 1086622047-!>

<!-Text-!>Ame, I'm in Boston and we are the same as you!!! Huge deal!! My best friend just got married this past weekend and we have been planning this wedding for the last year!! Reception hall, DJ, coordinating flowers for the church and reception, centerpieces, favors, bridesmaids gowns, tuxedos for the ushers, her gown... I could go on and on!!! There was a cocktail hour, with food displays, as well as passed hors d'ourves, and then a five course dinner!! Cutting the cake, throwing the bouquet!!! OK... you get the picture!!! (Can you tell I really had fun??)<!-/Text-!>

<!-/Post: 137243-!> <!-Post: 137244-!><!-Time: 1086622535-!>

<!-Text-!>Here it runs the gamut. The huge deals aren't quite as common. Church service, then reception at one of the 5 halls or parks, 200 guests, fresh flowers, limos, and DJ's are the norm.Matching flowers, favors, tuxes and bridesmaids gowns, open bar, but the food is generally a buffet lunch or dinner and a little more casual than Ame's experience. Bride's cake and a groom's cake and champagne toast. Just cake and mints would not be considered much of a reception here. I think it can go overboard a little. It's more important to me that it is fun for everyone than it is to show off how much you spent. On the other hand, all the show can be a lot of fun! Does that cover it?<!-/Text-!>

<!-/Post: 137244-!> <!-Post: 137252-!><!-Time: 1086625999-!>

<!-Text-!>Everyone I know JOP's it<!-/Text-!>

<!-/Post: 137252-!> <!-Post: 137254-!><!-Time: 1086626341-!>

<!-Text-!>JOP's it? Please explain.
Ame<!-/Text-!>

<!-/Post: 137254-!> <!-Post: 137255-!><!-Time: 1086626402-!>

<!-Text-!>Oh, I get it now, I think... Justice of the Peace?
Ame<!-/Text-!>

<!-/Post: 137255-!> <!-Post: 137265-!><!-Time: 1086627921-!>

<!-Text-!>In the south generally, the receptions are cocktail/buffet rather than a seated dinner, with dancing sometimes a DJ, sometimes a full band/orchestra. It can be at a restaurant, country club or hotel. The size can vary. A small wedding is usually 100 or so people.
I had a fantasy wedding. The church was decorated beautifully. We had a limo for the bridal party but it didn't show..had to do some scrambling! LOL The reception was at my parent's home. We had the wedding cake set up in the dining room, the buffet under canopies around the pool. Strolling violinist. There were about 400 attending. At 11, we did the whole goodbye thing so the old people could leave and then we just turned around and walked back in. We partied till 2! LOL

I think it's really up to the bride/groom on what they want and can afford. I don't think anyone should bankrupt themselves over it. It's funny. My mom hated big wedding..thought they were a total waste of money. "put the money into a house" is what she always said (and that's what she did) but she was willing to put her feelings aside and give me my fantasy wedding.<!-/Text-!>

<!-/Post: 137265-!> <!-Post: 137268-!><!-Time: 1086628361-!>

<!-Text-!>I got married in Idaho and loved the flexibility. There isn't really a certain way you have to do a wedding. Some people go all out, but all of my family and friends are too practical to spend 10,000+ on a wedding.

My wedding had about 250 guests and was held at my church. We used silk flowers for decorations and live ones for my boquet, corsages, etc. We had the reception at my church. I'm not big into flowers, and don't like boring, traditional receptions, so we decorated with a 50's theme. Checkered table cloths, rollerskates, hula hoops, balloons. It was so much fun! My uber-talented best friend painted a '57 chevy to cover the head table.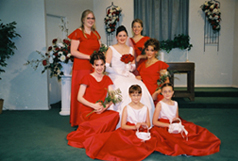 My bridesmaids either made their own dresses or had their mothers do it. We rented the tuxes for the unbelievably low price of $60! My mother-in-law decorates cakes and made me a bueatiful one exactly to my specs. The whole wedding cost us about 2,500!

Some of my classmates in California come from rich families and spend vast amounts of money on weddings. One couple (22, straight out of college) had a "black-tie" wedding at a hotel. They spent 10,000 on the CAKE ALONE!!!!!!<!-/Text-!>
<!-/Post: 137268-!> <!-Post: 137280-!><!-Time: 1086629646-!>
<!-Text-!>Most of our weddings around here are similar to those listed - ours was a champagne reception with about 500 people (we had 650 invitations sent out). Large family with lots of social/business/political acquaintances.

I'm Czech, but did not have the traditional Czech wedding, of which we have plenty around here. It's an all-day thing with an early afternoon wedding in the church, then a dinner, wedding march and dance, with appropriate hootin' and hollerin' mixed in. Oh, and did I mention the kegs of beer?

<!-/Text-!>
<!-/Post: 137280-!> <!-Post: 137310-!><!-Time: 1086634111-!>
<!-Text-!>They run from extreme opposite ends of the spectrum here - from small, intimate weddings in family homes with receptions there, to church weddings with receptions at hotels or halls, to elaborate society type weddings with huges receptions afterwards.

Many have church weddings, some are long Catholic masses, and many others are married by JOP.

Sit down dinners are rare here, except in the very formal weddings.

Most receptions are catered, have bands or DJ's and open bar. The receptions are usually 3 hours long.

Photos take up a lot of the wedding party's time too.

Most people here have a wedding cake, which can be just a simple wedding cake, to several tiers, and very ornate, and a groom's cake.

I've been to pretty much all kinds here, can't say one was better than another, although I personally think it's ridiculous to spend $10,000 on a wedding!<!-/Text-!>
<!-/Post: 137310-!> <!-Post: 137312-!><!-Time: 1086634266-!>
<!-Text-!>In Ohio they are usually pretty big. Ours was a big Italian wedding. We had around 350 people...i knew less than half of them and most of them spoke italian

Dh has a BIG family.
We had a italian band who also played CD's for the young people. 5 course meal, tons of fun and danceing, bouquet and garter toss etc. etc. We also went to a local park to take pictures in front of the beautiful flowers. I had 7 bridesmaids. We didn't have a limo. Our reception hall had the use of 2 cadillacs that were included in the price of the hall.

My friend had a limo bus for her wedding and that was a blast.

Of course there are also small wedding here. A friend of mine had a early wedding followed by a brunch, no music, no cake, it was all over by noon. Another friend had her reception in her backyard...those are the people whos parents didn't help them with the cost. Mine and my dh's were generous enough to help with the cost of our wedding.

Now I am itching to go to a wedding!<!-/Text-!>
<!-/Post: 137312-!> <!-Post: 137327-!><!-Time: 1086637511-!>
<!-Text-!>Small town...usually a moderate-sized wedding at one of the churches, reception and dancing at the American Legion building... I haven't been to too many in the 12 years I've been here, but this seems to be the norm. I got married in my home city (large midwest) and then after I moved to Illinois, my in-laws gave us a reception (at the Legion! LOL) to introduce us to everyone in town. The clearest memory I have of culture shock was the dollar dance, where I was expected to dance with every male in the building, for money. I had never heard of such a thing (they tell me it's the Italian influence here), and was horrified. I hated every minute of it!<!-/Text-!>
<!-/Post: 137327-!> <!-Post: 137356-!><!-Time: 1086641677-!>
<!-Text-!>I failed to mention that I'm in Utah. And, that tuxes, bridesmaid gowns, flower girl dresses etc., all are the norm



No dinner served at our receptions here, but their is always a large family dinner...usually after the wedding, and before the reception.<!-/Text-!>
<!-/Post: 137356-!> <!-End-!>
---