Step 2 Power racer
---
Moms View Message Board: General Discussion: Archive November 2006: Step 2 Power racer
<!-Post: 300808-!><!-Time: 1164837870-!>

<!-Text-!>Do any of youhave this? Is there one in this price range that you would suggest? This one is at Walmart for less than $100. We want to get it for Taylor for Christmas and I have no idea what to buy. I don't want to spend more than $100 on it.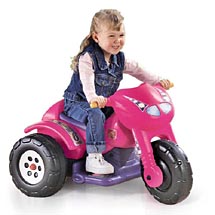 http://www.walmart.com/catalog/product.do?product_id=1762707

Thanks<!-/Text-!>
<!-/Post: 300808-!> <!-Post: 300810-!><!-Time: 1164839377-!>
<!-Text-!>Someone gave our neighbor one of those for her little boy (just turned 3yo in Oct) about 6 months ago. He loved it!!! Even though it was pink.

We always joked with the dad that we were going to buy him army stickers for it. lol They got him a 4x4 for his birthday and they've passed the other one on to another child now.<!-/Text-!>
<!-/Post: 300810-!> <!-Post: 300857-!><!-Time: 1164857997-!>
<!-Text-!>This is sooooo totally COOL. My kids drove this until we just had to scrap it. I think they would still ride it if we had it around. Taylor will LOVE IT. Good luck<!-/Text-!>
<!-/Post: 300857-!> <!-Post: 300859-!><!-Time: 1164859145-!>
<!-Text-!>Just ordered it online and I am going to have it delivered to my friends house. I really hope she likes it.
Thanks you guys!

<!-/Text-!>
<!-/Post: 300859-!> <!-End-!>
---