Walmart...RUn....LOL

---
Moms View Message Board: Free Stuff and Coupons: Walmart...RUn....LOL


<!-Post: 192596-!><!-Time: 1107975556-!>

<!-Text-!>For those of you with little girls or boys, Walmart has the Little Tykes Magicook Kitchen marked down to- $19 (was $100). It says 100 phrases in english, french or spanish. There is also a workbench that has been marked down. Happy Shopping.
The ones by me were up high on a shelf and I had an employee scan to make sure they were ringing up at $19. They say $88 on the box, so alot of employees have no clue they are onsale.

<!-/Text-!>
<!-/Post: 192596-!> <!-Post: 193643-!><!-Time: 1108357495-!>
<!-Text-!>I cannot believe I did not see this post until now Is it still going on? On the wal-mart webpage it still says 88.88
this is it right?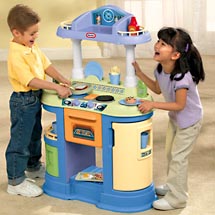 <!-/Text-!>
<!-/Post: 193643-!> <!-Post: 193782-!><!-Time: 1108415377-!>
<!-Text-!>Might just be some stores... too....<!-/Text-!>
<!-/Post: 193782-!> <!-Post: 193900-!><!-Time: 1108434107-!>
<!-Text-!>Actually,

Depending on where you live they may still have quite a few. I hope you find one. It is actually nation wide, also. HTH"s

<!-/Text-!>
<!-/Post: 193900-!> <!-Post: 193902-!><!-Time: 1108434487-!>
<!-Text-!>*Sigh* I didn't see this either! I have to go to Wal-Mart tomorrow, I'll be looking for this, since we wanted to get one for the kids' Christmas present, but didn't find any we like at a decent price!<!-/Text-!>
<!-/Post: 193902-!> <!-Post: 193913-!><!-Time: 1108437371-!>
<!-Text-!>I just bought one of those last week for $19 I had over heard a couple of the sales clerks talking about it and I made a mad rush back there to get it. My son has been wanting one of those for a while now. I was so excited!!! They still have about 10 left at our Wal-Mart.<!-/Text-!>
<!-/Post: 193913-!> <!-Post: 194062-!><!-Time: 1108498742-!>
<!-Text-!>They didn't have *any* kitchen sets today, I don't know why, but that whole section was emptied, maybe they are making room for bikes. (It's the same aisle in our store)<!-/Text-!>
<!-/Post: 194062-!> <!-End-!>
---