Old Clothes Quilt?
---
Moms View Message Board: Arts, Crafts, Gardening and Ideas: Old Clothes Quilt?
<!-Post: 126532-!><!-Time: 1082671330-!>

<!-Text-!>Hello Everyone,

I had previously heard of someone taking old clothes that were from their children and turning it into a quilt.

I have started to go thru my DD12 clothes from many many years ago (wasn't able to part with them) and have decided to try and make this quilt. However, I have one major problem! I do not know how to go about starting this.

Does anyone know what I am talking about, and how I could possible start this project? Do I cut the clothes? Do I leave them in the shape they were in? (Ex. T-shirts, dresses, pants, etc.)

Any help or suggestions is greatly appreciated.<!-/Text-!>

<!-/Post: 126532-!> <!-Post: 126555-!><!-Time: 1082681825-!>

<!-Text-!>what a fun project!when it comes to jeans u can leave the pockets or teh name of the jeans on and zipper but id cut them down a bit ... tshirts id put the craft iron on backing to make them a bit more stable and mabe outline the special part of the tshirt ...the dresses id use again the pocket of the or something special off it or a square that is about the same size as the rest u ahve cut .. or u could make stips off the dresses and use that asn the parts that might go between the squares to hoold the squares together ...or even the sides of the quilt when u go to quilt it id put hearts thru it and maybe even her name ...<!-/Text-!>

<!-/Post: 126555-!> <!-Post: 126559-!><!-Time: 1082683315-!>

<!-Text-!>Melissa, first of all - Welcome to Momsview! I'm taking it that you are new...I don't think I've seen you post before.

I have NO IDEA how to go about this, but the member who posted that she was making this type of quilt is Palmbchprincess. She posts often throughout the week, so I'm sure she will see this and respond. Good luck with the project!<!-/Text-!>

<!-/Post: 126559-!> <!-Post: 126573-!><!-Time: 1082686020-!>

<!-Text-!>You would typically cut the clothing up to make your squares. A good friend of mine made a memory quilt of her daughter. She used squares of her clothing, as well as pics of her girls. It's beautiful!
Just a couple of quick links I found....

http://www.originalquilts.com/

http://www.originalquilts.com/memory_gallery.htm

http://www.goosetracks.com/T-shirtQuilts.html

http://www.goosetracks.com/Memorial_Quilts.html<!-/Text-!>

<!-/Post: 126573-!> <!-Post: 126575-!><!-Time: 1082686251-!>

<!-Text-!>Like Amy mentioned, Crystal was just talking about this! She was going to do it with her twins baby clothes.
Sounds like such a neat idea. If you do it, you'll have to post pictures for us!<!-/Text-!>

<!-/Post: 126575-!> <!-Post: 126599-!><!-Time: 1082701719-!>

<!-Text-!>I finished the top of Madison's, and started on Shane's, but haven't had time to work recently. What I did was make a scrappy type quilt. I cut out any designs, like the front of a tee shirt, then just used fabric pieces in different sizes to fill in. I'll post pictures in the morning, I've been working since 10 am and don't have the energy to do it now. Now as far as t-shirt quilts, I posted a link to Nate's Aunt Kitsi's site in Indiana. She makes T-shirt quilts, and one that is on the site was made from his brother's football t-shirts. Good luck, and feel free to ask me if you have specific questions, I'll help if I can!!

Here is that site again....


http://www.geocities.com/dewey_1921/<!-/Text-!>
<!-/Post: 126599-!> <!-Post: 126766-!><!-Time: 1082762095-!>
<!-Text-!>I had mine made. The quilter took the dress fronts (where the pretty bows or lace were) and made them into squares she then used another fabric to "frame" them and made several blocks this way into a quilt. This was out of all of my daughters infant dresses.
I am trying to figure out how I want my sons to be made. I am considering having clothing pieces cut into frog shapes and having them appliqued onto the quilt.<!-/Text-!>
<!-/Post: 126766-!> <!-Post: 126853-!><!-Time: 1082786791-!>
<!-Text-!>ok, here are some pics of Maddie's quilt. They aren't the greatest pics, but remember, I'm taking them with my phone, so the clarity stinks!



<!-/Text-!>
<!-/Post: 126853-!> <!-Post: 126854-!><!-Time: 1082786827-!>
<!-Text-!>trying one more time...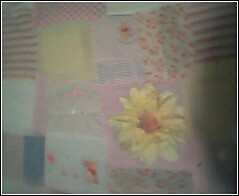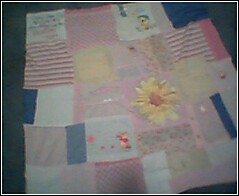 <!-/Text-!>
<!-/Post: 126854-!> <!-Post: 126859-!><!-Time: 1082787962-!>
<!-Text-!>It looks WONDERFUL Crystal!!! Great job!!!<!-/Text-!>
<!-/Post: 126859-!> <!-Post: 126865-!><!-Time: 1082789397-!>
<!-Text-!>ohhh, i love that quilt!!! I want to do one but have no sewing machine!! Can you do this by hand, lol!<!-/Text-!>
<!-/Post: 126865-!> <!-Post: 127487-!><!-Time: 1083046581-!>
<!-Text-!>Thanks!! Kenna, I went to Walmart and bought a sewing machine for about $90. I decided to just jump in full force, because I've been talking about learning to sew for over a year. I also made pillows for the kids, just plain pink and blue. They sleep with them every night, we say "Pillow, blankie, BIRTHDAY BEAR!!" and they know it's bedtime!<!-/Text-!>
<!-/Post: 127487-!> <!-Post: 127488-!><!-Time: 1083049397-!>
<!-Text-!>I have been thinking about that...just getting a cheap sewing machine to start with in case i don't like it as much as i think and work up from there. Me and my dh were looking at them this weekend and they started at 100 up to over a 1000 dollars!! I told my dh i wanted the 1000 dollar one for a laugh, you should have seen the expression on his face, lol! i am gonna start going through all the old clothes for my kids soon!<!-/Text-!>
<!-/Post: 127488-!> <!-Post: 127709-!><!-Time: 1083103846-!>
<!-Text-!>Palmbchprincess the quilt is lovely. I have not had the time to start my dd's yet, she is still cleaning out her closet. But I am looking forward to when I can get it started.<!-/Text-!>
<!-/Post: 127709-!> <!-Post: 127790-!><!-Time: 1083133021-!>
<!-Text-!>Thank you, I hope you post when you get your DD's quilt done!!<!-/Text-!>
<!-/Post: 127790-!> <!-Post: 180660-!><!-Time: 1103367638-!>
<!-Text-!>
Authentication Error
Your username/password combination was invalid, or you do not have permission to post to this topic. You may revise your username and password using the form at the bottom of this page.<!-/Text-!>

<!-/Post: 180660-!> <!-End-!>
---